Financial Coaching
Build a clear and confident relationship with money We are here to resolve your money jigsaw
Are you in your 30s or 40s and looking to build a confident relationship with money?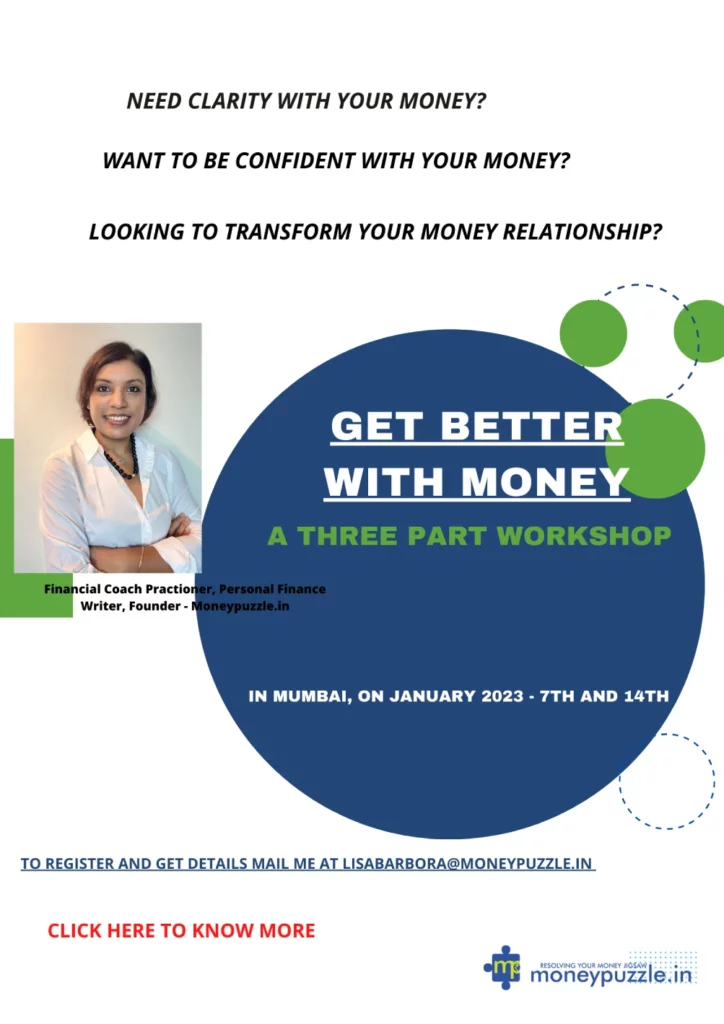 Testimonials
"I attended Lisa's workshop. While I went with an open mind, I realized I am guided by my own concepts around money, built over time. I am so glad I took this journey with Lisa. Now I am doubt free, I know what I want. I would recommend this workshop to one and all."
"I think it's important to know your relationship with money. Lisa's sessions really helped me to understand the importance of enjoying life and at the same time saving for the future. I would recommend this wholeheartedly to anyone who wants to be in a good financial space."
"To begin with, the program's construction and the build-up were spot on. Nothing overly complicated; it resonates with individuals from all walks of life – students, professionals, homemakers, and business professionals…. Lisa compels you to realign your relationship with money at micro and macro levels. She opens our eyes to money habitudes which reveal the ingrained thoughts, feelings and behaviours that ultimately influence our decisions and actions, which in turn has a bearing on our aspirations and success in life.
Lisa offers simple yet effective ideas and tools that help us course-correct our financial (spending) attributes and become a more sensible human being.
All along I knew the answers to my money-related inhibitions, Lisa had simply shown me ways to find them."
The past few years made me realise how inept I was in the realm of personal finance. After losing family and friends in a blink of an eye, it made me anxious that I had no idea how to manage / fund life independently. Truth be told I tend to hide from numbers and they elude me when I try to pay attention. My father dealt with it before I got married, and after it was my husband; I am totally clueless!
I heard about Lisa Barbora's workshop at the right time. It was like a sign, I jumped in, eyes closed, and she literally caught me and my ignorant non-financial brain. It was an eye-opener.
She made us realise our relationship with money, and how we perceive and comprehend it. I was surprised it was not about numbers, but a deeper understanding of how to deal with savings and spending on your own terms without getting overwhelmed.
She shared some simple tasks that would help us plan things in the most basic and straightforward way.
Thank you, Lisa, for the nudge to ask the right questions and get smarter about money.
Book a Session
Single Session
This is your first step in transforming your money relationship. A 90-minute session is spent in discovering the outcomes you would like to achieve and the kick starting the process towards solutions.
Basic Deal
Book 4 financial coaching sessions of 60 minutes each (first session will be 90 minutes). Spread out across 3-4 months, these sessions will help you achieve transformation in your money life.

The added bonus is a 15% discount on the total cost.
Awesome Deal
Book 6 financial coaching sessions of 60 minutes each (first session will be 90 minutes). Spread out across 5-6 months, these sessions will not only help you achieve transformation, but also you can move towards aligning money with your life's aspirations.

The added bonus is a 20% discount on the total cost.
Follow on Session
We understand that sometimes, the stated sessions might just not be enough. You can always book a standalone, follow-on session if you feel there is more to explore, but you may not need the Basic or Awesome Deal.

The added bonus is a 25% discount on the total cost.
Privacy Policy
Any interactions, payments and refunds are privately held and will not be disclosed to any person other than the one making the transaction.
Terms and Conditions
Payment to be made in full at the time of booking. Post payment, you will receive a call confirming your intent, details of the service and an email with a confidentiality agreement for the promised number of sessions. The session dates can be finalized anytime in this process.
Cancellations/Refunds
If you are unable to attend any pre-booked sessions, we can re-book the same for a different date, there will be no cancellations and refunds. If you are unsatisfied with the sessions, which means that the outcome you seek has not been arrived at, a refund can be processed after suitable discussions and deliberations.
Investing your money is a multiple-choice game today. You can pick across assets – right from bank deposits to commodities, art and wine. There is always one flavour of the season; in the pandemic, it was cryptocurrencies, then NFTs and most recently startups. Honestly, it's an exhausting task to follow the trend. And what if you get the least profitable curve of this trend, you know, buy close to the peak and then lose your patience or attention, sell out close to the bottom only to chase the next fast-paced trend.

---
Siddhika Aggarwal started off having an estranged relationship with money. She only realised this was working against her when she ran into trouble with money. Instead of giving up and shying up, Siddhika took on the challenge headfirst and turned around her money mistake.

---
The authors of this descriptive and comprehensive book got together to speak to Moneypuzzle.in about their though process and stock selection secrets. The book elaborately explains the concepts and practical steps required to be a stock picker in the market. Whether you have read it or not, listening in to this 50 minute interaction with the authors will surely help you understand the fine skill involved in being an equity investor.

---